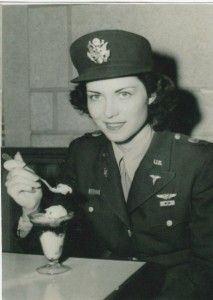 My mother, Bernie Manning Sullivan passed away yesterday afternoon, February 24, 2015. May God have mercy on her soul.
My Sermon and Eulogy:
She, Lt. Bernie Manning, 803 MAETS, USAAF, WWII CBI Theater, joins history along with millions of others who have been called America's "Greatest Generation." Their souls now soaring heaven-bound, their work of saving mankind from itself nearly finished, we'll remember them well, with respect and pride. They defended the Four Freedoms and our Constitution on battlefields across the Globe, and having defeated tyrants and monsters, they gave hope and structure to a nascent world community, and went to work rebuilding not only their own lives, but those of millions left homeless and destitute in Europe and Asia.
They came home, with relief and happiness, to waiting mothers and fathers, husbands and wives, brothers and sisters, friends and neighbors, their  joyous reunions tempered by the tears they wept as they saw tens of thousands of Gold Stars hung in windows through-out our great nation.
My mother lived ninety four years, and accomplished many personal achievements, but she should be best remembered as "just" one of millions who answered the call to save America, to save Democracy, to preserve a way of life that allowed her, and my father, and again millions of other men and woman, to reach higher peaks than their parents, to dream bigger dreams, to build homes and schools and a nourishing culture, to embrace children living, and bring into the world a decade of infants who now have lived longer and richer lives than any generation that came before.
My mother "kept the faith" and through-out her life inspired many young women to achieve what they feared was unattainable, to gain what seemed unreachable, even serving, in her last years, to help and encourage one bright young mother to do the work and achieve the dream of graduating with a degree in law, just as my mother had done some 50 years before.
As I read the Order of Evening Prayer with her Saturday, just hours before her final, fatal attack, after the passing of several weeks since she had major surgery, I held her hand as we prayed. Her speech was slurred, and her voice weak and hushed, but her lips moved and formed the faint words of response, and joined mine in the recitation of the Lord's Prayer, the Magnificat, the 23rd Psalm. I could not hear most of her speech, but then I was not meant to hear her words, they were spoken for the ears of Jesus Christ, and I know He heard them.
Sitting on the edge of my mother's bed, I thought of the times as a child that our family knelt around my parent's bed, and recited prayers and read aloud scripture, Roman and Protestant alike, and I thought of holding the gentle hand of my mother as she lead me into church on Sunday mornings, and the firm hand of my father leading me to those occasions when he told me, quite truthfully I later discovered, that his disciplinary actions would "hurt him more than I."
Within hours of our sharing liturgy and prayer, my mother would die, her body resuscitated, intubated, ventilated, and maintained fresh for a day or two more, but her being, her self, her consciousness, her soul had already "left the building," and she stood even then redeemed and joyous before God Almighty.
As these legions of magnificent warriors and peacemakers pass, I can reflect only that they are truly the "greatest" of us all, and I will ponder, until my death, why we, why I, have failed to leave my children a world better and safer place than my parents, in their prime, left us. The question my reflection inevitably poses is, are we, or are we not, a Christian nation?
My mother was troubled by the world in which she spent her last years. She readily admitted her failure and faults, and was more hopeful than I that we could change course, that prayer would alter our nation's path, and that somehow, God would continue blessing these United States. I conclude that her faith and optimism was rooted in her personal success in achieving what she sought to achieve, and in the buoyancy of her generation's victories over the Great Depression, World War, Social Injustice, and the Soviet Menace.
We, well, we have achieved some really good music, and our children have invented social media, really large screen television, and together we and our children have achieved a chaotic inchoate welfare state and bi-partisan political paralysis. Of course, we can find anything we need or want, for a easy payment price.
Mother, thank you for surviving the Great Depression, thank you for flying over "The Hump" seventy times, thank you for always giving all you had and always doing your best. Thank you for the life you gave me, and the world you created for me. And finally mom, thank you for the last six years, for allowing me the privilege of honoring you, just as God commands, and especially mother, thank you for never stopping hoping that we would someday, "Get back to God, and get it right."
+ + +