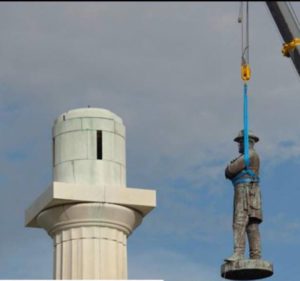 WHY THEY REALLY REMOVED "MARSE ROBERT'S" STATUE
Ah, come on folks… The good citizens of New Orleans needed an empty pedestal to commemorate the courage and heroism of the greatest African American of them all, The African American Father! You know, the one who respects women*, stays with and supports his family**, working Monday through Friday***, plays ball with his boys on Saturday, and takes his kids, along with their only mom****, to Church on Sunday*****.
And just as soon as they find such a man, they'll have a statue of him made to place atop that empty pedestal!
Seem harsh? Do a little research, determine the facts and draw your own conclusions. One of my conclusions is that it is generally correct and demonstrably factual to assert that a significant percentage of the American Negro Male Population has shirked their responsibility as a father, as a parent, as a husband.
Start your research with these references:
* See, for instance: https://www.researchgate.net/publication/299165992
** See, for instance:  http://datacenter.kidscount.org/data/tables/107-children-in-single-parent-families-by#detailed/1/any/false/573,869,36,868,867/10,11,9,12,1,185,13/432,431
*** See, for instance: https://www.bls.gov/news.release/empsit.t02.htm
**** See, for instance: http://www.prb.org/Multimedia/Video/2011/multipartner-childbearing-policy-seminar.aspx
***** See, for instance: http://www.pewforum.org/2009/01/30/a-religious-portrait-of-african-americans/
My initial research tabs for this meme and commentary:
http://www.sonofthesouth.net/leefoundation/LeesNickNames.htm
https://www.google.com/search?q=mars+Robert&rlz=1C1CHFX_enUS627US628&oq=mars+Robert&aqs=chrome..69i57j0l5.5273j0j7&sourceid=chrome&ie=UTF-8
https://www.google.com/search?q=Percent+of+African+American+families+with+two+parents&rlz=1C1CHFX_enUS627US628&oq=Percent+of+African+American+families+with+two+parents&aqs=chrome..69i57.18008j0j7&sourceid=chrome&ie=UTF-8
http://datacenter.kidscount.org/data/tables/107-children-in-single-parent-families-by#detailed/1/any/false/573,869,36,868,867/10,11,9,12,1,185,13/432,431
https://www.google.com/search?q=Percent+of+Adult+blacks+regualarly+employed&rlz=1C1CHFX_enUS627US628&oq=Percent+of+Adult+blacks+regualarly+employed&aqs=chrome..69i57.17080j0j7&sourceid=chrome&ie=UTF-8
https://www.google.com/search?newwindow=1&safe=off&rlz=1C1CHFX_enUS627US628&q=black+employment+statistics&sa=X&ved=0ahUKEwiI64_q8JDUAhWF1IMKHZacDasQ1QIIWCgA

https://www.bls.gov/news.release/empsit.t02.htm
https://www.dol.gov/_sec/media/reports/blacklaborforce/
https://www.theatlantic.com/business/archive/2015/12/black-white-unemployment-gap/421497/
http://datacenter.kidscount.org/data/tables/107-children-in-single-parent-families-by#detailed/1/any/false/573,869,36,868,867/10,11,9,12,1,185,13/432,431
https://www.google.com/search?q=black+male+attitudes+toward+females&rlz=1C1CHFX_enUS627US628&oq=black+male+attitudes+toward+females&aqs=chrome..69i57.10607j0j7&sourceid=chrome&ie=UTF-8
https://www.google.com/search?newwindow=1&safe=off&rlz=1C1CHFX_enUS627US628&q=african+american+gender+roles&sa=X&ved=0ahUKEwjFv-iy8pDUAhWm4IMKHan7AOcQ1QIIdCgG
http://family.jrank.org/pages/60/African-American-Families-African-American-Families-in-New-Millennium.html
http://journals.sagepub.com/doi/abs/10.1111/j.1471-6402.1980.tb00953.x?journalCode=pwqa
https://www.google.com/url?sa=t&rct=j&q=&esrc=s&source=web&cd=1&cad=rja&uact=8&ved=0ahUKEwjFv-iy8pDUAhWm4IMKHan7AOcQFggtMAA&url=https%3A%2F%2Fwww.andrews.edu%2F~rbailey%2FChapter%252015%2F9503214712.pdf&usg=AFQjCNF4hWESc9BWjb69zRHn73vd_v9bWw&sig2=LHCdeZihhyYtxsxtuJZCLA
https://scholar.google.com/scholar?q=black+male+attitudes+toward+females&hl=en&as_sdt=0&as_vis=1&oi=scholart&sa=X&ved=0ahUKEwjFv-iy8pDUAhWm4IMKHan7AOcQgQMIJjAA
https://link.springer.com/article/10.1007%2FBF01420798?LI=true
https://www.google.com/search?q=How+race+effects+gender+respect&rlz=1C1CHFX_enUS627US628&oq=How+race+effects+gender+respect&aqs=chrome..69i57.40015j0j7&sourceid=chrome&ie=UTF-8
https://www.google.com/url?sa=t&rct=j&q=&esrc=s&source=web&cd=4&cad=rja&uact=8&ved=0ahUKEwiSna2N9JDUAhWn64MKHRR9AJcQFghGMAM&url=http%3A%2F%2Fmaxweber.hunter.cuny.edu%2Fpub%2Feres%2FSOC217_PIMENTEL%2Ffrable.pdf&usg=AFQjCNEpV4YmogEQKhwJKhLA_bdZdeVGdQ&sig2=9HHiHSoabwOH61ptQ89dJg
https://www.google.com/url?sa=t&rct=j&q=&esrc=s&source=web&cd=5&cad=rja&uact=8&ved=0ahUKEwiSna2N9JDUAhWn64MKHRR9AJcQFghMMAQ&url=https%3A%2F%2Fcampus.fsu.edu%2Fbbcswebdav%2Finstitution%2Facademic%2Fsocial_sciences%2Fsociology%2FReading%2520Lists%2FStratification%2520(Gender%2C%2520Race%2C%2520and%2520Class)%2520Copies%2520of%2520Articles%2520from%25202009%2FAcker-GenderSociety-2006.pdf&usg=AFQjCNFzrrXmxqWpc4ZYXG9Gj4lLxpGlrA&sig2=-XofveU-mTwLzSU-5_x9LQ
https://www.google.com/search?q=fathers+with+multiple+mothers+of+children&rlz=1C1CHFX_enUS627US628&oq=fathers+with+multiple+mothers+of+children&aqs=chrome..69i57.21920j0j7&sourceid=chrome&ie=UTF-8
http://www.prb.org/Multimedia/Video/2011/multipartner-childbearing-policy-seminar.aspx
https://www.google.com/search?q=Black+family+church+attendance+percentage&rlz=1C1CHFX_enUS627US628&oq=Black+family+church+attendance+percentage&aqs=chrome..69i57.13519j0j7&sourceid=chrome&ie=UTF-8

https://www.google.com/search?q=Male+african+american+attitues+toward+respect+for+women&rlz=1C1CHFX_enUS627US628&oq=Male+african+american+attitues+toward+respect+for+women&aqs=chrome..69i57.36560j0j7&sourceid=chrome&ie=UTF-8
https://bmawufbp.blogspot.com/2012/08/why-are-so-many-quality-black-women.html#.WSnluuvDEdU
https://www.google.com/search?q=Male+african+american+attitudes+toward+female+rape&rlz=1C1CHFX_enUS627US628&oq=Male+african+american+attitudes+toward+female+rape&aqs=chrome..69i57.17592j0j7&sourceid=chrome&ie=UTF-8
http://onlinelibrary.wiley.com/doi/10.1002/j.1556-6676.1999.tb02441.x/full
https://www.researchgate.net/publication/299165992_Attitudes_toward_rape_among_African_American_male_and_female_college_students